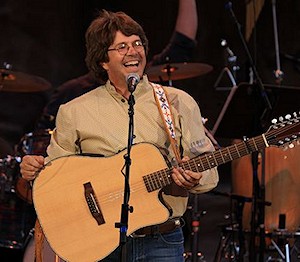 No one relates to an audience the way Roy Rivers does.  And no one personifies John Denver the way Roy does, though it's never been intentional.  An award winning singer songwriter in his own right, having written almost 200 to date, he also just happens to be the number one John Denver tribute artist in the world. Not only is he a gifted writer and singer he's also an incredibly talented guitarist. (Boulder Creek guitars officially sponsors him.)
These skills are also the reason he's been asked to perform his tribute at many prestigious events and places around the world. He was invited to accept the Country Music Hall of Fame award posthumously for John Denver in Europe and was later honored to give that award to John's mother Erma.  He was asked to perform two of John's songs on television broadcast live across Europe at the German American Country Music Federation award show.
Then there's Dolly Parton who had always wanted to do a recording of her favorite John Denver song "Thank God I'm a Country Boy."  She agreed to do a duet with Roy on his album and it went to #1 in several countries.  (This album, recorded on Music Row in Nashville, also features three of John's band members: Pete Huttlinger, Acoustic & Electric Guitar, Chris  Nole, Piano and Jim Horn, Tenor & Baritone Sax.

"It was a great honor singing on my favorite John Denver song "Thank God I'm A Country Boy" with Roy Rivers. Roy has done a great job. I'm sure that John would be very proud."
~Dolly Parton
The Denver Post and PBS came to Roy when they wanted to put on a John Denver Tribute show at the famous Red Rocks Amphitheater in Colorado two years running. Roy sold out the 9000 seats both times. He's also had his songs used in two different World Olympics.
But as far as his audiences go it's Roy's infectious smile, down to earth spirit and genuine love of people, coupled with his talents, that has gained him a large following. Those are traits John Denver exuded and also happen to be the same ones Roy brings to the stage.  He once said in an interview  "Every time I sing one of his songs, I sing it as if I wrote it. I honesty do."   Attending one of his concerts you can't help but feel that.

"The first thing you notice is his amazing voice and the way he plays his guitar. His concert that
week was a solo performance for one hour and forty minutes. There wasn't a dead moment
or a missed beat. The show was absolutely incredible!"
~Dana Robinson, Producer/Host "Spotlight on Entertainment" TV Show

Official Web Site

Roy Online

Roy's Official Sponsor